Trace Evidence Analysis Facility
The facility contains instrumentation that can be used for research, education, and service. It is available for a fee to the university community and in some cases may be available to the scientific community outside the university. Our facility plays a key role in assisting faculty and students in conducting research with state-of-the-art instrumentation. We provide technical expertise, training and services to forensic scientists and the more general analytical sciences to the community.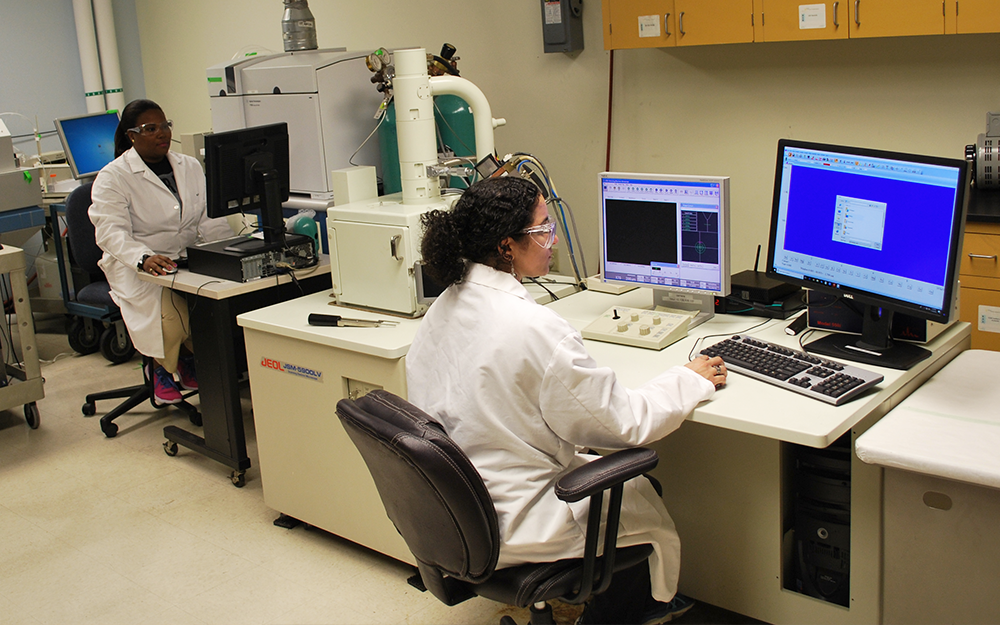 Services
The Trace Evidence Analysis Facility may accept contracts for analytical services from academic, industrial and government customers. All contract requests will be considered for feasibility by the facility staff and faculty. Please contact us with any questions regarding the analytical services in the facility.
Services
High magnification imaging using an SEM of a wide variety of materials
EDAX elemental analysis of materials
Elemental analysis and comparisons of materials using LA-ICP-MS
Elemental analysis of material by ICP-MS
Paint evidence examination and comparisons
Fiber evidence examination and comparisons
Glass evidence examinations and comparisons
Tailored workshops and short courses in different areas of forensic chemistry
Research
Some of the research projects conducted at our facility under the direction of Dr. Almirall are focused on the development and application of analytical chemistry tools to enhance the value of scientific evidence in forensic science.
Projects include the development of tools to characterize materials such as glass, paints and coatings, biological matrices, soils and others by the trace elemental content. LA-ICP-MS, LA-HR-ICP-MS, SEM, XRF, and LIBS are used to analyze a variety of matrices of interest to forensic scientists.
This facility was partially funded by an NSF Major Research Instrumentation grant (CHE-0420874) to Florida International University.
Contact Us
Our facility is directed by Dr. Jose Almirall.